Warning
: Illegal string offset 'group-0' in
/home/esmaravi/public_html/letsprevent.com/wp-content/plugins/ads-for-wp/output/functions.php
on line
1509
Warning
: Illegal string offset 'visitor_conditions' in
/home/esmaravi/public_html/letsprevent.com/wp-content/plugins/ads-for-wp/output/functions.php
on line
1509
Warning
: Invalid argument supplied for foreach() in
/home/esmaravi/public_html/letsprevent.com/wp-content/plugins/ads-for-wp/output/functions.php
on line
1511
Warning
: Illegal string offset 'group-0' in
/home/esmaravi/public_html/letsprevent.com/wp-content/plugins/ads-for-wp/output/functions.php
on line
1509
Warning
: Illegal string offset 'visitor_conditions' in
/home/esmaravi/public_html/letsprevent.com/wp-content/plugins/ads-for-wp/output/functions.php
on line
1509
Warning
: Invalid argument supplied for foreach() in
/home/esmaravi/public_html/letsprevent.com/wp-content/plugins/ads-for-wp/output/functions.php
on line
1511
Warning
: Illegal string offset 'group-0' in
/home/esmaravi/public_html/letsprevent.com/wp-content/plugins/ads-for-wp/output/functions.php
on line
1509
Warning
: Illegal string offset 'visitor_conditions' in
/home/esmaravi/public_html/letsprevent.com/wp-content/plugins/ads-for-wp/output/functions.php
on line
1509
Warning
: Invalid argument supplied for foreach() in
/home/esmaravi/public_html/letsprevent.com/wp-content/plugins/ads-for-wp/output/functions.php
on line
1511
Warning
: Illegal string offset 'group-0' in
/home/esmaravi/public_html/letsprevent.com/wp-content/plugins/ads-for-wp/output/functions.php
on line
1509
Warning
: Illegal string offset 'visitor_conditions' in
/home/esmaravi/public_html/letsprevent.com/wp-content/plugins/ads-for-wp/output/functions.php
on line
1509
Warning
: Invalid argument supplied for foreach() in
/home/esmaravi/public_html/letsprevent.com/wp-content/plugins/ads-for-wp/output/functions.php
on line
1511
Buenos días amigos prevencionistas. Tal y como os prometimos, nos complace anunciaros el primero de los juegos protagonizado por Safety The Cat y sus amigos. Se trata de un sencillo pasatiempo que tanto servirá para vuestras futuras formaciones, como para colgarlo en vuestra empresa o pasar un buen rato con los pequeños de la casa. El tema de hoy es: «Encuentra los 19 Riesgos en el almacén».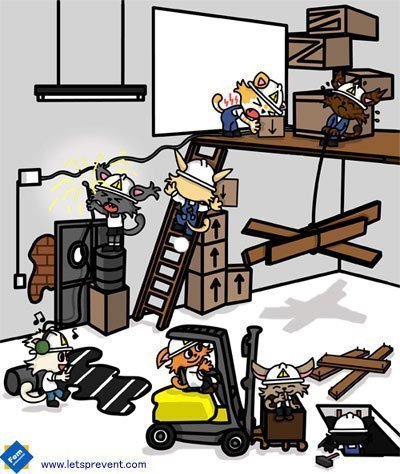 En este almacén hay al menos 19 riesgos, cada uno de los amigos de Safety The Cat ponen su seguridad en peligro y nuestra misión como experto en prevención será encontrar cómo podemos hacerlo para evitarlo. A continuación tenéis una versión más grande para que la podáis imprimir con mayor calidad: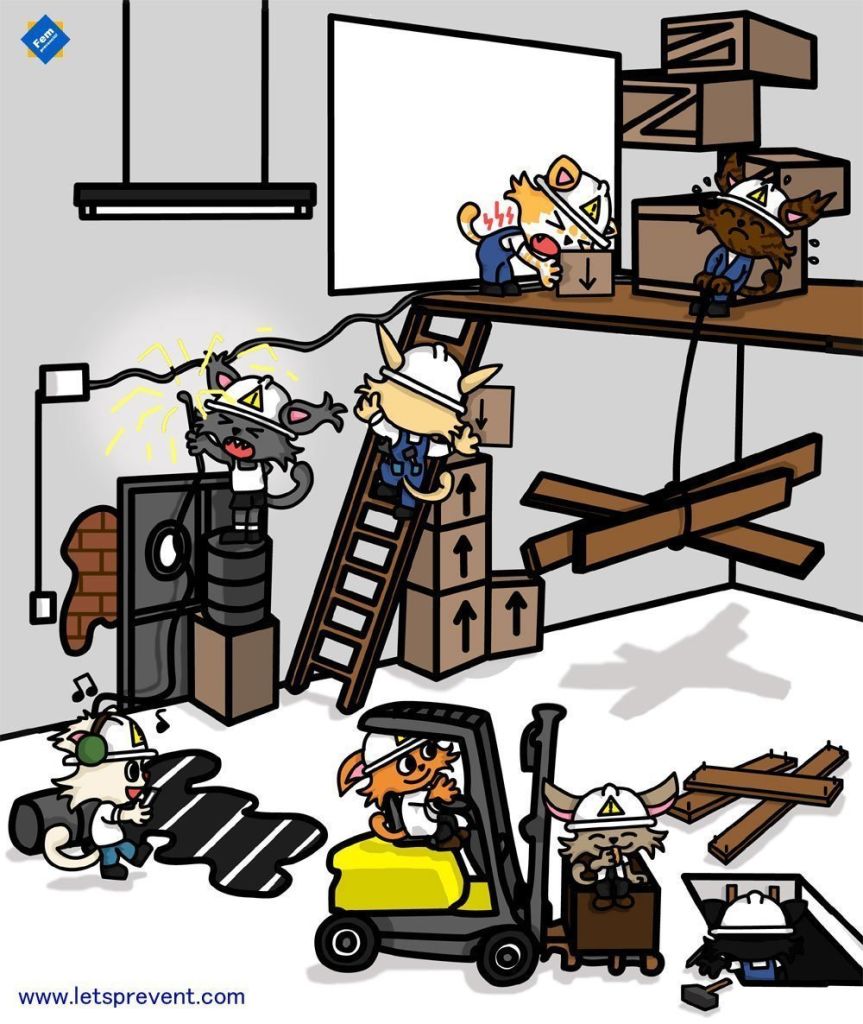 En el dibujo a continuación encontraréis la primera pista, ¿habíais acertado en la cantidad?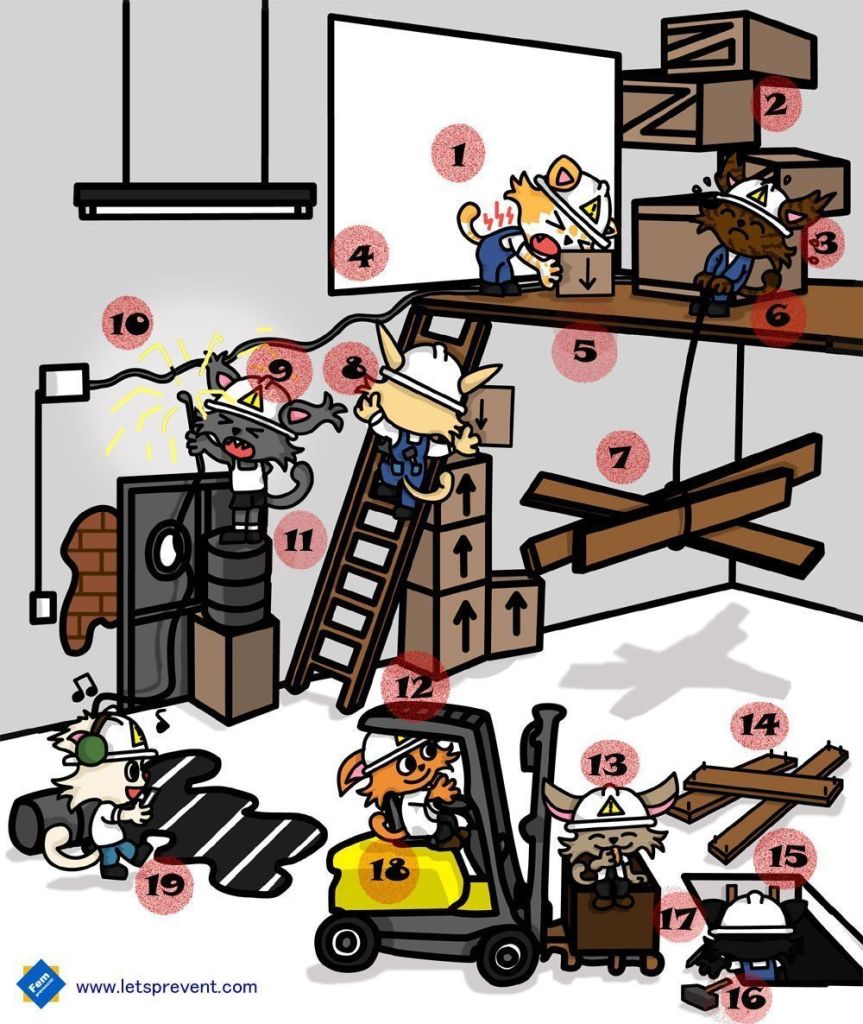 Finalmente, os lo hemos puesto muy fácil y en el último dibujo hemos añadido una breve descripción de cómo vemos nosotros estos riesgos. Pero claro está, el trabajo de un prevencionista a veces es subjetivo, por lo que siempre se nos puede escapar algún que otro riesgo. Esperemos que no sea este el caso, de todos modos ¿Cómo lo veis vosotros? ¿Habéis encontrado algún riesgo más?